new students
it's time to get started!
Are you new to the yoga garden? Are you new to yoga? Either way, our new student special is the best way to get started – a whole month of yoga for just $49!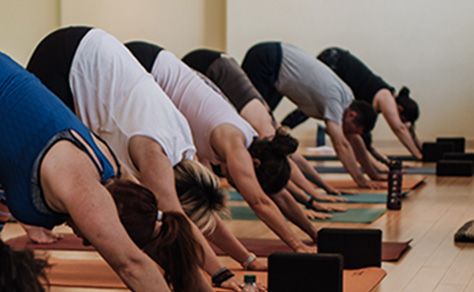 new student special
$49
for your first month of
unlimited yoga

Take as many classes as you want.
Try out all of our teachers.
See what yoga can do for you.
frequently asked questions
In yoga, we practice barefoot, on mats, so bring your own mat. It's always a good idea to bring a water bottle to stay hydrated. Some people like to bring a towel because classes can get sweaty.
Wear something you're comfortable moving and sweating in. Please keep your yoga clothes clean for the benefit of the other people in class. If you wear shorts, please make sure they have a liner. Finally, it's best to avoid wearing perfume or essential oils, since many people are sensitive to fragrances.
It's always a good idea to sign up through our website or the MindBody app, but you can also just sign up when you get here. Some classes tend to fill and signing up online will save your spot up until five minutes before the class starts.
We ask that students arrive 15 minutes before class. This allows everyone to get settled and the teacher to start on time. If you arrive late, you may have to wait until the teacher invites you in.
Once you've tried our New Student Special, and you're coming to classes twice a week or more, our Monthly Membership is your best option. You can set up your membership at the front desk. Your credit card will be billed monthly until you cancel your membership. You'll also get free mat storage in the studio and discounts on workshops and yoga supplies!